Nantucket Beaches
Nantucket is known for the variety of its beaches, surf conditions and excellent saltwater fishing for striped bass and bluefish. Be sure to visit more than one of the many beach environments and if interested in ecology and micro-environments, make the trip to Great Point, an expanse of beach on the northwestern tip of the island.
Please be mindful of beach conditions (red, green yellow flags), lifeguard status and advice on safety when choosing a beach during your stay. In addition, some of the beaches may be closed due to environmental changes so please check daily postings.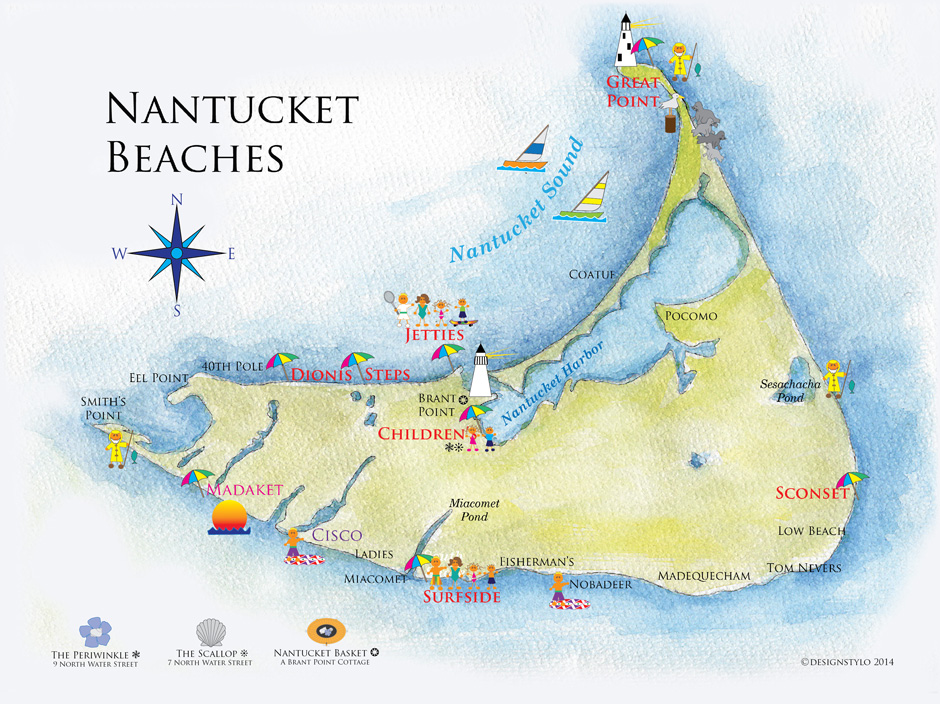 North Shore Beaches
North shore beaches include Children's Beach, Jetties, Steps Beach and Dionis.
Jetties and Children's Beach are a short walk from town and have gentler surf, ideal for children. Jetties has restrooms, lifeguards, tennis courts, and a playground. The annual Boston Pops Concert is held here. Children's Beach has a playground, grass park, showers and restrooms and a nice family restaurant serving breakfast, lunch and early dinner.
Brant Point is not a swimming beach but a delightful place to visit, watch the ferries entering the harbor and take photos.
Steps Beach, accessible from the public walkway on Lincoln Circle, is popular with families and has great views of the arriving ferries. There are no facilities or lifeguards. It is a popular destination for watching the July 4th Fireworks.
All of these beaches are easily accessible – walking distance from our Inns, by bike path or on the WAVE shuttle bus. They have wonderful views of either Nantucket Sound or the harbor and on a clear day, Great Point may be visible.
Dionis is more remote but popular with families as well. The waves are small and the beach is expansive. There are restrooms and lifeguards.
South Shore Beaches
South shore beaches which include Cisco, Miacomet, Surfside and Tom Nevers face the Atlantic Ocean and typically have heavy surf and occasional rip tides. Several are accessible by bike path or shuttle bus and have parking, facilities, and/or lifeguards.
Surfside is one of the most popular South Shore beaches with food, restrooms and lifeguards.
Cisco has very strong surf and is popular with surfers. There are lifeguards but no restrooms.
Miacomet has very heavy surf and strong currents. There are lifeguards but no restrooms.
East Shore Beaches
Siasconset with heavy surf is a popular East shore beach. There are lifeguards and restrooms. It is accessible by bike path or shuttle bus but has limited parking facilities. There are places nearby to purchase a picnic lunch and a walk through Siasconset town to see the historic "fishing cottages" is worthwhile. "Auld Lang Syne" cottage is believed to date from 1670 but was moved several times from its original foundation.
Great Point and the beaches leading to the tip of the island are part of the Coskata-Coatue Wildlife Refuge, home to numerous coastal plant and animal species. You will see seals basking in the sun and shorebirds above the surf line.
The expanse of beautiful beach, walking trails, fragile ecological environments with the nests of endangered shorebirds and the historic Great Point Light draw many visitors. Surfcasting is very popular here at the confluence of the Atlantic Ocean and Nantucket Sound. Natural history and sunset tours are available.
Great Point area is easily accessible by boat or a 4-wheel drive vehicle with a beach permit. By foot it is a bit over a mile from the Wauwinet Gatehouse at the very end of Wauwinet Road.
West Shore Beaches
The western beaches include Madaket, Eel Point and Smith Point.
Madaket Beach is a popular destination for watching sunsets. The surf is heavy and there are some restrooms and lifeguards. Plan to see a sunset from this beach during your stay.
Eel Point is very remote and subject to flooding. There are no lifeguards or restrooms.
Smith's Point may not be available due to conditions.