Lee Papale is a Nantucket native, artist and a member of a family of well-known island artisans descended from early whalers and admired for their lightship baskets and scrimshaw.
At an early age, Lee worked for her Aunt, the scrimshaw artist Nancy Chase, helping to polish ivory for her well-known carvings. As an adult, she worked with other artists and craftspeople on the island refining her style and creating her own iconic designs.
She is known for her lovely scrimshaw silhouette of the island covered in flowers and embellished with bright colors and after 9/11, the image of the island covered with the American flag. Lee teaches the art of scrimshaw at the Nantucket Historical Association, 1800 House and the local high school determined to inspire the next generation of scrimshanders.
A nature lover and conservationist like other members of her family, she speaks of the joy of a native's Nantucket life style: clamming, harvesting scallops, respecting the many fragile environments such as Coskata-Coatue and sister island, Tuckernuck with their gray seals and endangered birds.
When you visit Lee's studio to arrange a scrimshaw commission, you enter her world – delightful gardens and a koi pond. You are collaborating with a scrimchantress who's preserving a craft unique to the island and its heritage.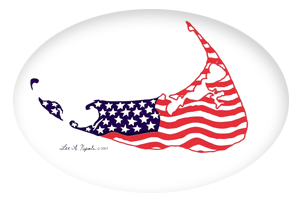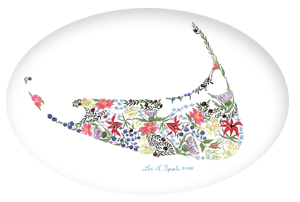 ---