A Tisket, a Tasket, a Nantucket Basket
When did Nantucket's rich history of basket-making begin? Some attribute it to the original inhabitants of the island, the Wampanoag people. The simple beauty and utilitarian nature of baskets appealed to the ethos of Quakers who began settling on the island in the 1700's and they influenced the craft. The crews on Nantucket lightships, floating lighthouses anchored on the South Shoals to protect shipping, made baskets to ease the monotony of their long days and basket-making flourished from the 1800s to 1890s.
Early masters of this venerable craft were Capt. Charles B. Ray (1798 – 1884) of the New South Shoal Lightship. He passed the skill on to three generations of his family and their baskets are prized by collectors. Mitchell Ray (1877 – 1956), the last basket maker in this family and whose shop was on Starbuck's Court, labeled many of his baskets with the charming verse below that became his trademark.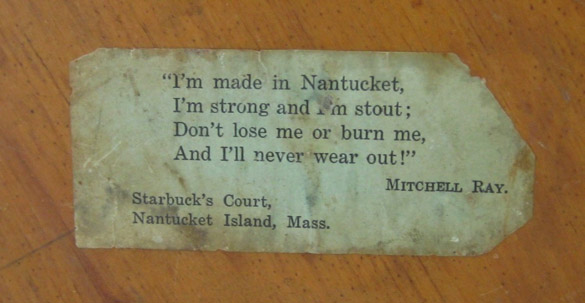 He encouraged José Formoso Reyes (1902 – 1980) to learn the craft and José went on to add distinctive ivory carvings. Christened "friendship baskets", they evolved even more, becoming status symbols sometimes referred to as "Nantucket minks". They could only be obtained by traveling to the island and visiting local crafts people, hence the cachet. First Ladies have been photographed carrying them, socialites devoted "basket houses" to them and many well-known fashion designers are avid collectors.
Today there are nests of seven graduated baskets, backpacks, picnic hampers and of course purses of all sizes and shapes with custom decorations. They bear the trademarks of the basket-maker though no new ditties. You can see examples of beautifully-crafted baskets, both recent and historic, at the Nantucket Lightship Basket Museum whose mission is to promote awareness and appreciation of the baskets and their makers. Antique dealers on island carry many early baskets and you will see them at local auctions as well.
A visit to an island basket-maker is an education on the craft. They will lovingly describe their approach and preferred materials. Today, waiting lists for baskets from well-known craftspeople are common and a one year wait may be the norm. However, at completion, you will be the proud owner of a work of art that can be passed on to later generations.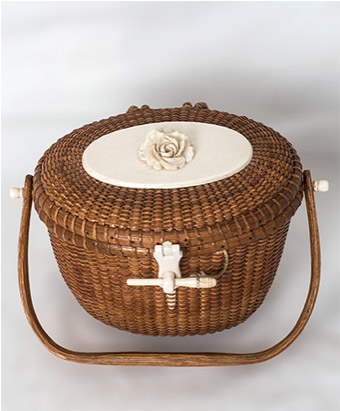 A Nantucket Basket by José Formoso Reyes.
---